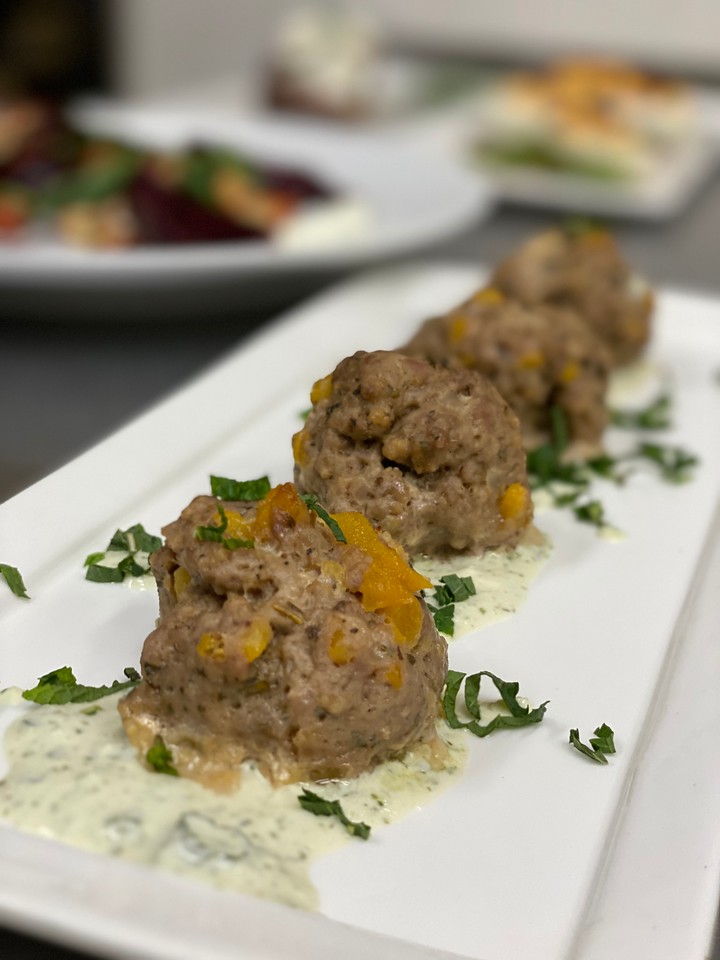 To-Go & Meal Prep Menus
Prepared Dinners/To Go
We at Creek's Edge understand times are tough. We would like to offer pick-up/delivery (within a 15-20 mile radius) for fully cooked meals. This can be for an individual or for the whole family. We have a full menu available for you that is customizable. We are able to customize to fit any dietary restriction whether it is allergen, vegetarian, vegan, keto, etc. Orders will need to be placed with 24 hour notice due to all meals being made fresh daily.
You can email orders and questions to alex@creeksedgewinery.com and we will reply with any questions we may have and your invoice. Don't forget to order a bottle (or 2) of your favorite Creek's Edge wine to go with your meal. An adult (21+) must be present to accept any wine purchases. We hope everyone stays safe in these troubling times.
Meal Prep/Delivery
Every week we will feature a new, chef-curated menu for meals we'll deliver straight to your doorstep. Meal kits are $75 per person.
NEW INSTRUCTIONS to place your order:
Click on the PLACE ORDER button below.
Under TYPE in the left hand menu select FOOD to see the food options available for purchase.
Find the week you would like delivery, choose how many people you are ordering for and click BUY to add it to your cart.
Don't forget to add your favorite Creek's Edge wine to your order! (10% discount code will appear at the top of the checkout page)
When you have completed your order click on CART to checkout.
Questions? Email our General Manager, Alex Jeffries.
P.S. Deliveries are FREE! An adult (21+) must be present to accept wine delivery.
Meal kit orders must be placed by the Saturday before at 12pm
---
Prepared Dinners (To Go) Menu
Deli-Style
Chicken Salad
Served with freshly made rolls (6 with a pint/12 with a quart) pt. $8/qt. $14
Buffalo Chicken Dip
With pita and a variety of vegetables to dip pt. $8/qt. $14
House Made Hummus
With pita, cucumber and red pepper to dip pt. $6/qt. $11
Sandwiches
CEW Sliders
6 Angus beef Sliders on freshly made rolls served with our Barbeque Sauce and Garlic Aioli $12
Chicken Sandwich
Breaded Chicken Cutlet on Ciabatta with Mozzarella and Pesto $9.5
Brisket and Brie Baguette
Thinly sliced Coffee Rubbed Brisket, Brie, Caramelized Onions, and Dijon Mustard $14
Salads
Mixed Greens Salad
Local greens tossed with bell pepper, cucumber, red onion, and cherry tomato. Tossed in our Italian vinaigrette $5
Classic Caesar Salad
Chopped romaine, torn bread croutons, and shaved parmesan cheese tossed in our creamy Caesar dressing $6.5
Truffle Arugula Salad
Tossed with white truffle oil and sea salt with prosciutto, shaved artichoke and focaccia croutons $8
Kale Salad
Tossed in apple cider vinegar and extra virgin olive oil with roasted butternut squash, spiced pecan and asiago $8
Sides
Hand Cut Fries
with Roasted Garlic Dipping Sauce $4
Our Illustrious Mac and Cheese
Rotini pasta with a blend of Aged Cheddar and Gruyerre $4.5
Herb Roasted Red Potatoes
Tossed with garlic, rosemary, and parsley $3.5
Wild Rice Pilaf
Nutty, buttery long grain rice cooked with chicken stock with roasted vegetables $4
Green Bean Amandine
Sautéed with garlic and toasted almond $4
Sautéed Medley of Seasonal Vegetables
Sourced from our local providers and deglazed with our 2017 Chardonnay $3.5
 Roasted Brussel Sprouts
With Apple Cider Vinaigrette $4
Entrees
BBQ Chicken
Dry rubbed ½ Chicken served with our Tomato and Molasses Barbeque Sauce $13
Coffee Rubbed Brisket
Roasted for 7 hours and served with its succulent jus $14
Moroccan Spice Rubbed Roast Pork
Dry marinated for 24 hours with the fragrant, mysterious Ras El Hanout seasoning. Served with our Foothills Red..d Sweet and Sour Sauce $13
Lamb Ragu
Slowly simmered in our 2017 Cabernet Sauvignon, with Tomato, Onion, and Herbs
Served with Rotini pasta and grated Parmesan $15
Meatloaf
Our chef's blend of locally sourced Beef, Veal and Pork mixed with spices and vegetable finished. Served with Wild Mushroom Gravy $11
Crab Cakes
Served with Roasted Green Tomato Salsa Verde $21
Grilled Salmon
With red pepper glaze $15
---
Meal Prep Menu – Week of June 1st
Meal kit orders must be placed by the Saturday before at 12pm. (May 30th)
The next Meal Kit delivery is Monday June 1st
An adult (21+) must be present to accept wine delivery.
The menu is as follows:
BB-CEW Chicken (in our tomato and molasses bbq sauce)
Buttermilk Biscuits Cider Green Beans
Herb Rubbed Roasted London Broil
Lemon and Sage Potato Gratin
Caribbean rubbed Pork Ribs 
Pineapple Habanero Salsa, Dijon and Chive potato salad
Citrus Marinated Grilled Salmon
Spinach Salad with red onion, fresh berries, roasted pecan vinaigrette
Spring Vegetables Lasagna with Lemon Ricotta 
Garlic Rolls, Iceberg Wedge with house made blue cheese vinaigrette